Safeguarding
During COVID 19 for any safeguarding concerns please contact the following:
If it is an emergency and you think that a child may be in immediate danger please contact the emergency services directly by calling 999.
If you need to contact the Multi-Agency Safeguarding Hub (MASH) to make a safeguarding referral, please telephone 0300 126 1000.
If you need to contact Social Care urgently during the evening, at night or at the weekend, please telephone the out-of-hours team on 01604 626938.
The school's Designated Safeguarding Lead is Mrs Lynda Bowyer. You can contact her during school hours either on 01780 470259, or 07494 555737.
Safeguarding Statement
Kings Cliffe Endowed School is committed to safeguarding and promoting the welfare of children and expects all staff and volunteers to share this commitment.
This means that we have a Child Protection Policy and procedures in place which we refer to in our prospectus. Parents and carers are welcome to request the Policy on in paper format, however, for most, it is simpler to view it here and download in PDF format. For this you will need Adobe Acrobat or similar to view the PDFs.
Sometimes we may need to share information and work in partnership with other agencies when there are concerns about a child's welfare. We will ensure that our concerns about our pupils are discussed with his/her parents/carers first unless we have reason to believe that such a move would be contrary to the child's welfare.
Our Designated Child Protection Officers are: (DCPO)
Mrs. Lynda Bowyer
Headteacher

tel: 01780 470259

Designated Safeguarding Lead
email: head@kingscliffe.northants-ecl.gov.uk.

Mrs. Barbara Yeo
Deputy Designated Person

tel: 01780 470259

Mr Jim Gilbey
Safeguarding Governors

tel: 01780 470259
Multi-Agency Safeguarding Hub (M.A.S.H)
The Multi-Agency Safeguarding Hub (MASH) deals with referrals from professionals and members of the public who may have concerns about a child's welfare following contact with the helpline that is now also based in the Multi-Agency Safeguarding Hub. It makes the process of dealing with referrals quicker and more effective by improving the way county council: Children's social care, Northamptonshire Fire and Rescue Service (NFRS), Youth Offending Service (YOS) and education, work alongside other partner agency colleagues including Northamptonshire police, Northamptonshire health partners, National Probation Service, and the East Midlands Ambulance Service (EMAS) to share information.
Contact M.A.S.H
By telephone contact to the Multi-Agency Safeguarding Hub:0300 126 1000;
Further sources of information and help:
Anyone can be vulnerable to extremism and radicalisation, but children are particularly at risk. As they grow and become more independent, it is not unusual for them to take risks, explore new things and push boundaries. In order to help parents teachers and school leaders the website shown below has been developed by the Department for Education and the Home Office.
https://educateagainsthate.com/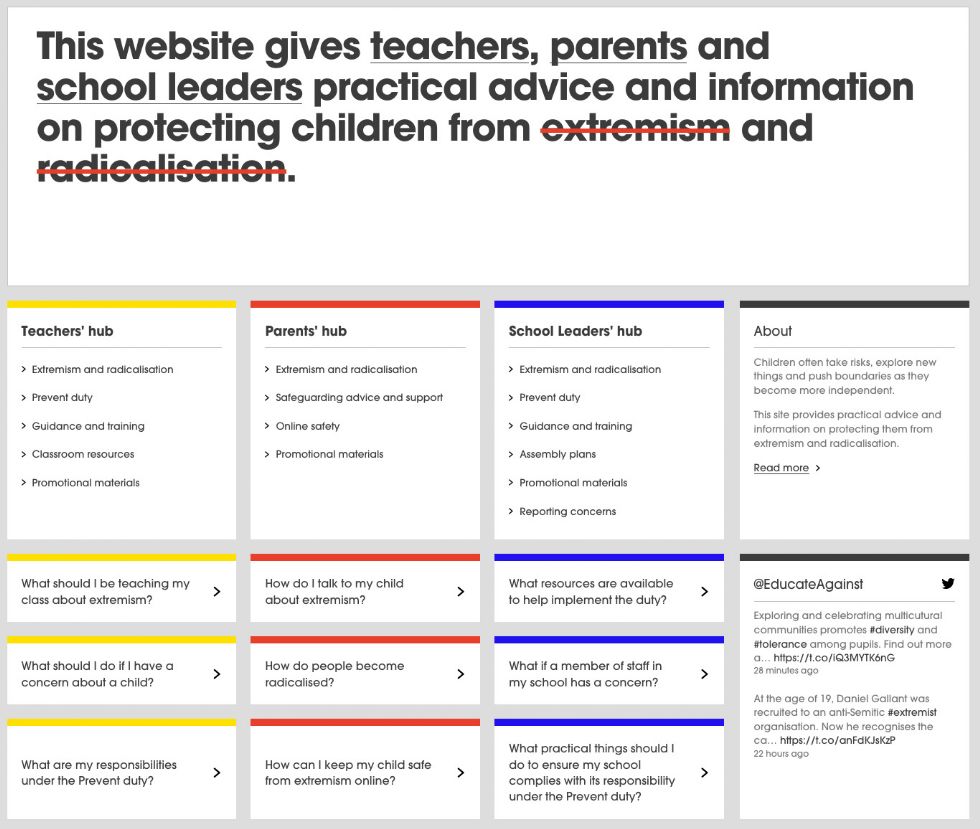 Below you will also find a couple of fantastic and simple to follow guide aimed at parents, carers and children alike. They offer tangible and memorable guides to staying safe. Please talk about these leaflets with your children. You can view these as PDF by clicking the images below.