Our Governors
Last updated 09th October 2019
Please scroll down the page or click here for our Record of Governors.
Mrs Julien

Chair, Co-opted Governor

Suzie is a link Governor for Mathematics and Music and assessment. She is on the finance, Pay and Appraisal Committees where alongside an external adviser set the Head Teachers targets. The Committee also anonymously review the teaching and non teaching targets that are set by the head teacher. Suzie meets with the bursar on a monthly basis to monitor the finances. She meets with our Head teacher on a regular basis to keep up-to-date with the operational side of the school. Suzie is also responsible for working with the Clerk to the Governors to set the agenda for the meetings and creates the governor development plan as well as ensures everyone on the Governing Body are clear about their roles and responsibilities. Suzie has worked in education since 1998 and currently works part time as a Teaching and learning Adviser. Suzie has one child at the school and one child at secondary school. suzie.julien@kceps.co.uk

Mr Luff

Vice Chair
Co-Opted Governor

Richard is the link Governor for Modern Foreign Languages and PE, responsible for ensuring sports premium funding is used effectively. He is on the finance, Pay and Appraisal Committees where alongside an external adviser set the Head Teachers targets. The Committee also anonymously review the teaching and non teaching targets that are set by the head teacher. richard.luff@kceps.co.uk

Sajda Andleeb

Clerk to Governors

Sajda is our Clerk to the school's Governing Body. An important role to the body and is responsible (along with the Chair of Governors) for setting up meetings. She take the minutes and ensure that meetings are held in accordance with any relevant legislation. She is also responsible for keeping records of governors, including the training they undertake and the school policies reviewed by them.

Sajda.Andleeb@peterborough.gov.uk

Mrs Bowyer

Headteacher

Lynda has the day to day operational responsibilities of running the school. Some of her duties include: determining the aims, ethos and priorities of the school, formulating school development and policies, overseeing the management of the school finances, evaluating the standards of teaching and learning and ensuring professional performance, drawing up the staffing plan and managing the process of staff appointments, undertaking staff performance management and recommending to governors salary levels. She also offers advice to governors and supports them in their strategic role.

Mrs Jones

Co-opted Staff Governor (Non-Teaching Staff)

Mandy's Role on the Governing body is as support staff Governer with her responsibility being SEN. She has worked with children for 17 years at pre-school and King's Cliffe Endowed Primary School. This brings valuable and personal experience of working with SEN children, as well as working with teams of specialists, to the Governing body. Mandy has a granddaughter attending to the school, lives in the village and is a valuable member of the village community .

Mrs Yeo

Staff Governor (Teaching Staff)

Barbara has worked with children in education for 18 years in a variety of roles. Within school, Mrs Yeo is the Inclusion Lead and Deputy Safeguarding Officer.

As well as coming back onto the King's Cliffe Governing Body Mrs Yeo has also served on other governing bodies, in addition to admission appeal panels for schools. Further to her teaching role, Mrs Yeo helps support and mentor new teachers as well as teaching assistants in their professional development.

LEA Governor

LA Governor 'VACANT'

Mr. Moldon

James is our health and safety governor. He visits school annually to review the H&S audits. He is also on hand to check our risk assessments and deal with any health and safety issues as and when required. He is also a representative for resources, premises and finance.

Mrs Bowen-West

Louise, is a retired Teacher and a member of the Law and Hutchinson Endowed Trust. Louise has had a variety of roles but is currently responsible for EYFS .

Mr Buckle
Co-Opted Governor

Nick joined the Governors in September 2016 and has a career in strategic marketing. Nick has two designated roles as a Govenor, one is to ensure the schools budget is used effectively in his role as finance Governor. The second is as SEND Governor working with the school to ensure appropriate support is in place for pupils with special educational needs or disabilities.

Mr Gilbey

Co-Opted Governor

Jim is a secondary school science and maths teacher. His main responsibility on the governing body is safeguarding, a constant focus for all governors and staff. Monitoring and training is regularly carried out to ensure that best safeguarding practice is being followed and that all statutory regulation is met. Jim is also responsible for the annual parent, student and staff satisfaction surveys.

Mrs. Filby

Foundation Governor

Caroline is our newest Governor and represents the Law & Hutcheson Foundation Trust. Caroline is the Governor responsible for SEN (Special Educational Needs) and Equalities, including the Medical Needs and First Aid policies.

Caroline has an educational background having worked for the Local Authority within Education, supporting parents of children and young people with additional needs since 2003. She is an independent volunteer for the Peterborough Diocese, Admission Appeals Panel and volunteers at a local school with their swimming lessons.

Ms Copeland

Governor
Parent Governor

Eve is a qualified primary teacher (teaching mainly in Upper Key Stage 2) and gaining the National SENCo award. She has recently left her school setting to work as a specialist teacher at a local education centre.

Eve's primary governing responsibility is English. She has experience in delivering the national assessments for children at the end of each Key Stage. Her role will involve monitoring and communication with the teachers, who have the curriculum responsibility for English, including phonics.

One of Eve's personal roles is sitting as a trustee of a local children's charity.
Mrs Franklin

Governor
Parent Governor

Annelies is the wellbeing and equalities governor. She brings with here a wealth of experience in this area and works mainly with Mrs Bowyer to monitor staff and pupil wellbeing. She also ensures that the equalities agenda is fulfilled and monitors the equalities action plan.
Dr Eastwood

Governor
Co-opted

Helen is our co-opted governor and provides a link with the local medical centre where she works as a doctor. She is a finance representative and also works with Annelies to support the wellbeing of the school.
Records of our Governors
click image to enlarge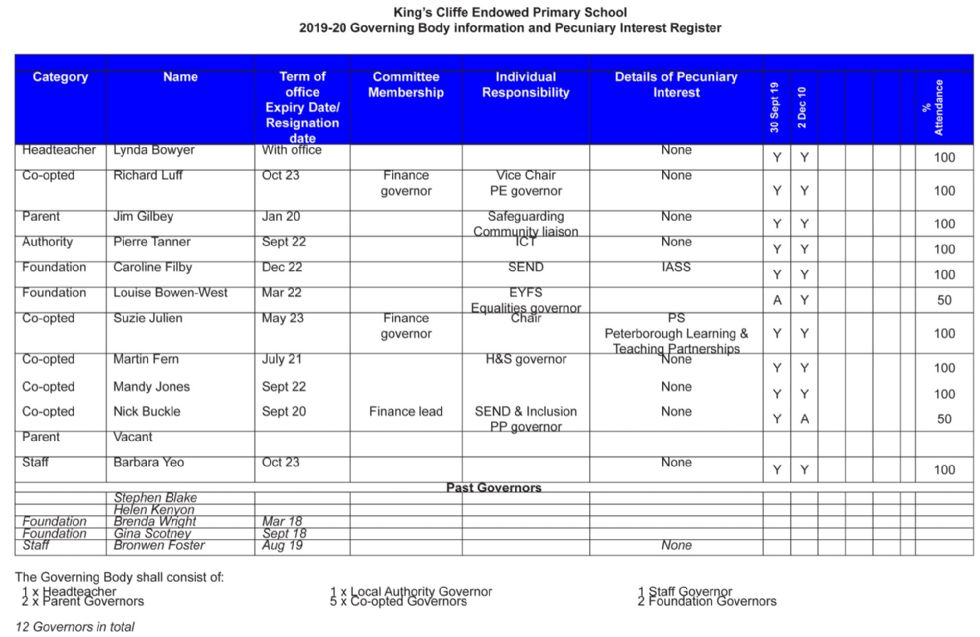 click image to enlarge