Equity
At Kings Cliffe Endowed Primary School (KCEPS), we believe that equity is about valuing each member of the school community as an individual with diverse needs and experiences.
Therefore, at KCEPS we focus on supporting the wellbeing and progress of every child and believe that all members of our community are of equal worth.
We seek to prepare our pupils for life in a diverse society by creating a culture of equity, inclusion and diversity within the KCEPS community. We do this by ensuring that the 9 Protected Characteristics identified in the Equality Act 2010 are woven through our curriculum, values and behaviours.
The Equality Act 2010 also requires all schools to comply with the Public Sector Equality Duty and within that, two specific duties.
Paragraph 5.1 of The Public Sector Equality Duty explains that, in carrying out their functions, public bodies are required to have due regard to the need to:
Eliminate unlawful discrimination, harassment and victimisation, and advance equality of opportunity between different groups.
Advance equality of opportunity between people who share a protected characteristic and people who do not share it
Foster good relations between different groups.
The Two "specific duties" requires us to:
Publish information to show compliance with the Equality Duty
Publish Equity Objectives at least every 4 years which are specific and measurable
Our Equity Objectives are available to view below.
We recognise that these duties reflect international human rights standards as expressed in the UN Convention on the Rights of the Child, the UN Convention on the Rights of People with Disabilities, and the Human Rights Act 1998.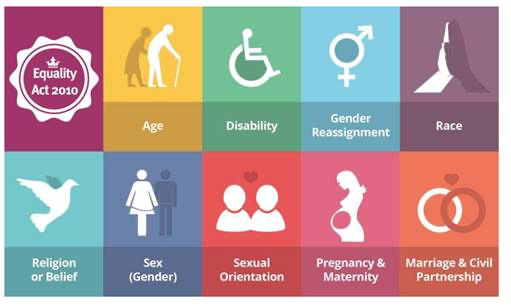 Our full Equality Policy can be found in School Policies