Canine Assisted Learning
After seeking views from pupils, staff, parents and governors, our plans to have a school Wellbeing Dog were overwhelmingly supported.
Meet Mabel…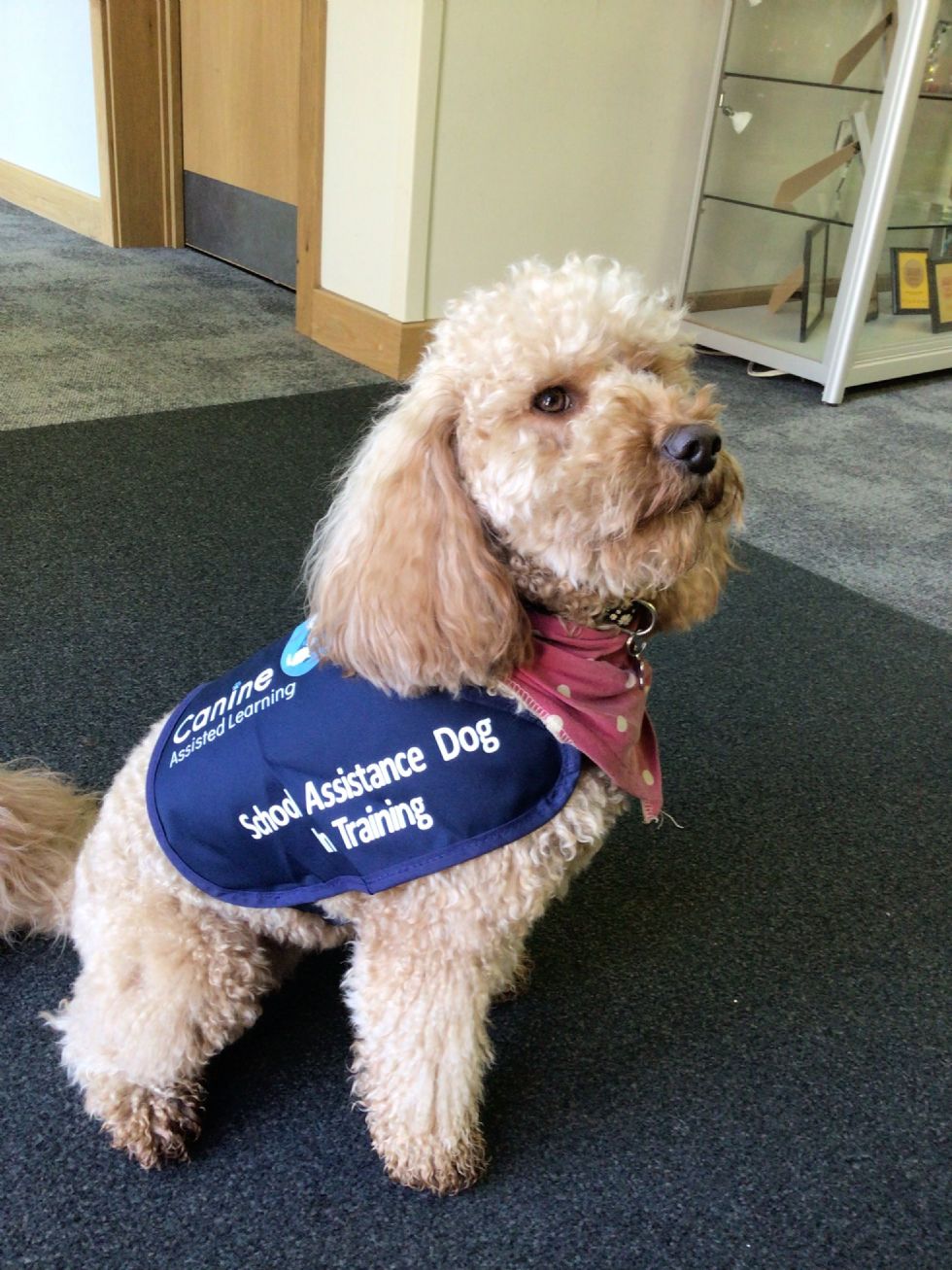 This is Mabel our well-being dog at KCEPS. Mabel was born on 8th April 2021. She loves playing with her toys – her favourites are a ball that looks like Mike Kowalski from Toy Story and a little lion that squeaks😊.
Mabel loves to go for long walks. She enjoys chewing a stick and fetching a ball. Mabel's favourite thing in the whole wide world is water! She loves to paddle and splash about in the river and sea. She is a very good swimmer.
Mabel is on Stage 5 of her training with Canine Assisted Learning (CAL). She has four handlers in school and has mastered the basic commands of 'sit', 'stay', 'lie down', 'touch', 'settle', 'come' and walking to heal. She has been busy doing Mabel Time with children at lunchtimes and has become very comfortable walking around the school with one of her handlers. Below is a video showing Mabel practising her training.
Whilst at school, it is important Mabel gets her exercise. Just like the children, Mabel loves to use the climbing apparatus as her very own agility course.
Mabel's next steps are to become more at ease walking into a whole class of children and also to start learning to be comfortable and confident working at her workstation in the library. The aim is, when Mabel is working, she will be based in the library with one of her handlers. Children will visit Mabel to read to her, or be given time to talk to her to share their worries, concerns or upsets.
When Mabel is wearing her CAL coat, the children know they are not to approach Mabel, as she is working and needs to concentrate.
Mabel lives with Mr & Mrs Bowyer and comes into school regularly. Mabel will be trained in line with Wellbeing Dog standards and she will not work with the children until she is fully trained. However, Mabel will regularly attend school to become acclimatised to the school environment and meet all the children and adults.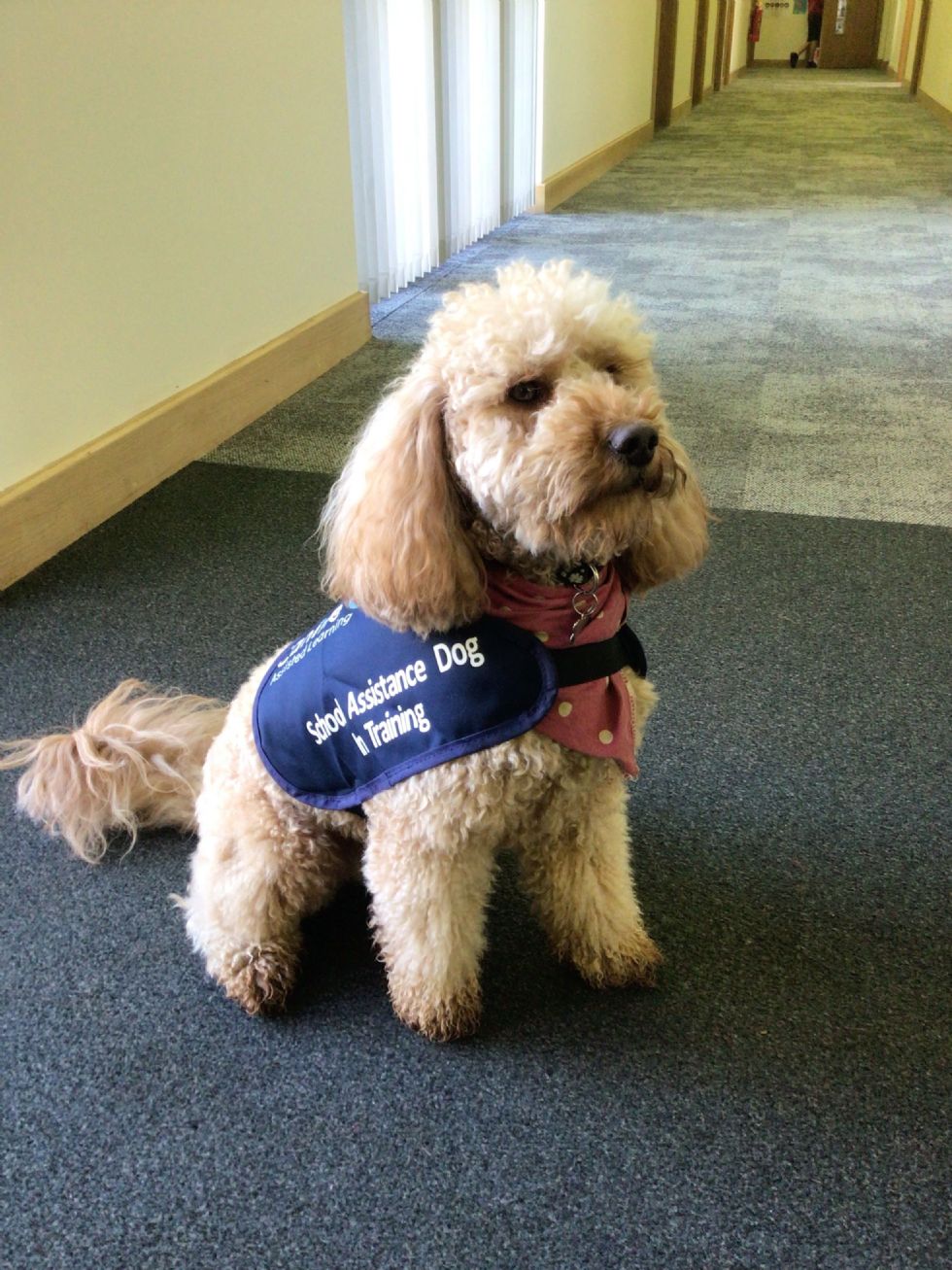 Before making a decision, we undertook a significant amount of research and are aware of the many benefits to having a school dog, which include:
a calming effect on pupils
improved behaviour and concentration, reduced stress and improved self-esteem
encouraging expression, participation and confidence for all children
fostering a sense of responsibility
motivating pupils to think and to learn, as most children have a high level of natural interest in, enthusiasm for and enjoyment of animals
encouraging respect and thereby improving pupils' relationships with each other, parents and teachers
teaching children to nurture and respect life
helping work undertaken with the most vulnerable children
helping children build confidence in reading by reading to the dog
improving attendance
Dogs are increasingly being used in schools with great success and they are now being used in some hospitals, since the emotional health benefits are being seen as vast.
Mabel will work with children for a variety of reasons. For example, she will encourage and motivate pupils who find reading tricky by letting them read to her; she will also help pupils who might be upset or worried about something and she will be seen with children who have earned 'Mabel time' as a reward for their outstanding work and/or behaviour.