Autumn 1
Autumn 1 has been an incredibly exciting time as all of the children have settled into preschool.
We have been discovering our Wonderful World and the children decided they wanted a greengrocers shop. We bought apples, potatoes, carrots, peppers, pears and parsnips and the children explored what the fruits and vegetables looked like inside. They then used them to print with, to shop with and to make their very own Mr Potato Heads.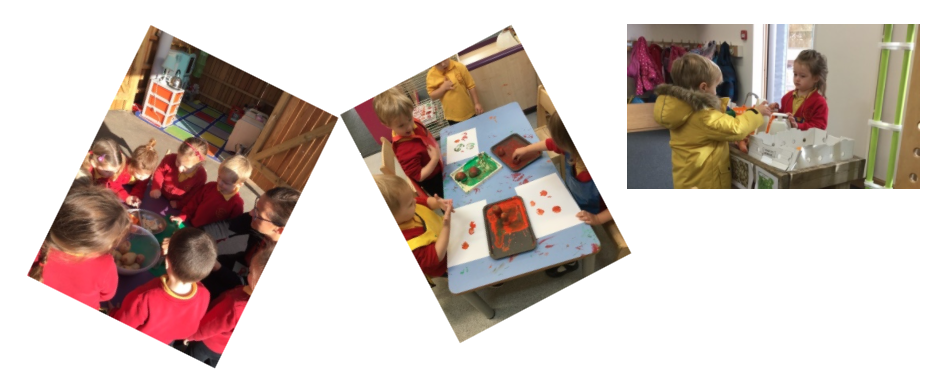 During our story-telling sessions, the children enjoyed various tales, with one of their favourites being Goldilocks and the Three Bears. This led to a discussion of porridge and what they liked to eat it with so we had a porridge making and tasting session, where many of the children decided they preferred fresh fruit grated onto their porridge rather than syrup or chocolate sauce. They also used the porridge oats outside, to help with their fine motor skills and their maths, comparing sizes of bowls and spoons and counting out how many spoonful's of porridge they needed.

We visited the library and the children used the puppets to make up their own stories and as they were so interested in books, they brought their favourite books into school to share with their friends and are now choosing storybooks from preschool to take home and share with their families.
They have also spent lots of time outdoors, investigating our Autumn tray, building together, splashing in puddles on rainy days, building together on sunny days, playing in the mud kitchen whatever the weather and having a lovely time with their friends!