Parent Voice
Parents Forum
The King's Cliffe Endowed School Parent Forum is a group of parent representatives who meet once every half term to discuss school-related issues. While not a decision making body, the Parent Forum provides a valuable way to listen to your ideas and concerns and for us to seek your views, helping to ensure the needs of the children and their families are met.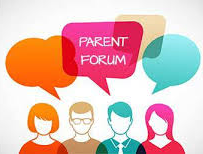 Membership Will Be
At least one of the Senior Management Team (Headteacher or Key Stage Leader) and a Governor (Chair of Governors and/ or PPC Governor). The Chair of Governors will initially chair the meeting until the Forum has developed to a point where a Parent Volunteer may be able to take on this role.
Two elected parents representatives from each Year Group.
How It Works
Two parents are elected per Year Group as a Representative.
Parents may only represent 1-year group.
Parents will be elected on a votes received basis.
No names were recieved for December 2014 election. The Governors will organise the next election for September 2015.
Election Procedures
If more than 2 names are received ballot slips with names only, will be distributed to class parents on a Friday. Parents will have 1 week to return their ballot papers and elected class representatives will be announced via weekly newsletter.
If only 2 names are received for a Year Group – both nominations will become Representatives by default. Result will be announced as above.
If only 1 name is received that nomination will become a sole Representative and the position shall remain open unless another nomination is received under a first come basis.
If no names are received, the positions will remain open as above. A further election will not be held during the year. Self-nominations thereafter will be accepted on a first-come first in basis.
Date of First Meeting: 9:15am, Thursday 22nd January 2015
The time has currently been set at 9:15am to coincide with school (and playgroup) drop-off. Future Forum meetings may be arranged for alternative times.
Parents should pass information to the Year group representatives for discussion.
What the Parents Forum Cannot Address
Items relating to specific pupils, specific parents or individual school staff, which should be, discussed one to one with the relevant teacher, Key Stage Leader or Headteacher as appropriate.
Ground Rules of the Forum
Members of this forum must agree to the following ground rules:
We will endeavour to stick to the agreed time frame for the forum meetings.
One person will speak at a time
We will as members respect each other's opinions: agree to disagree
Members will switch off their mobile phones whilst attending the forum
We will not discuss individual children / adults during the parent forum meetings.
The Forum is not an appropriate body to be discussing items of a sensitive nature. If any are brought up the Chair of the Forum will decide who these will be directed to in order for them to be appropriately dealt with.
Terms of Reference
Members of the Parent Forum adhere to the Terms of Reference.
Below you will also find our satisfaction survey. This is our yearly survey of parents and carers thoughts and feelings about our school. This is also sent out to parents via e-mail annually.